Online Pilates classes with Lisa Walsh
Ireland's Online Pilates classes
In-studio classes based in Kildare, Newbridge, Kilcullen and Portlaoise
Why choose online Pilates with Lisa?
Your first online class is FREE
One of the key factors to the popularity of Lisa's classes is her ability to teach with 3 main components to her teaching – stretch – strengthen – release.  Her techniques help people move better, release tension, gain strength where needed
Want to learn more about online Pilates with Lisa, questions about equipment used, general queries about class levels and abilities etc please feel free to contact us 
Online Pilates in your home from anywhere in Ireland. Beginner to Advanced level classes. Learn how to tighten your stomach muscles, grow your glutes, reduce low back pain, increase flexibility. 
Since Covid-19 Lisa has transitioned her Pilates classes online. Resistance bands & small props used in classes.  Your first online class is free, just contact Lisa to book it
All ages, levels and abilities from complete beginner to more experienced & advanced levels are catered for within our weekly class timetable
With both online & In-studio classes available to suit your timetable. Classes in Newbridge, Kilcullen just south of Naas, Kildare & Portlaoise
Each class is 60 minutes,  with 15 minutes allocated beforehand for a chat with each other and Lisa or to ask any questions
You will need access to a Mobile device, Laptop or Ipad with Internet Access. Your camera needs to be pointed towards your mat so your technique can be monitored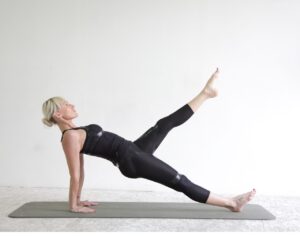 See What People Say.......
Definitely would recommend Lisa & her classes , a proper instructor , encouraging in her classes , never makes you feel that you can't do anything. Pilates has benefited me & my injuries immensely
Excellent Pilates classes – Lisa is gentle spoken, gets each person to work to their best ability, able to manage a mixed ability group. Very skilled & knows her stuff
Would definitely recommend lisa and her classes. By god she makes you work for the hour but warm down and spiky balls are bliss
What is Involved in Pilates with Lisa
One of the key factors to the popularity of Lisa's classes is her ability to teach with 3 main components to her teaching – stretch – strengthen – release.  Her techniques help people move better, release tension, gain strength where needed
There is a lot of focus on flexibility of muscles, joints and movements. This helps create a more balanced and supple body. Tight Fascia can restrict flexibility & this is also addressed with myofascial Release
Pain can be caused from weak inactive muscles. you will learn how to activate deeper intrinsic muscles in the body that help stabilise and support your body. You will also learn how to stretch opposing muscle groups for complete balance
You will learn how to apply self Myofascial Release & Trigger Point Release Techniques using Spiky Massage Balls. It can reduce muscle tension and help reactivate muscles that are not 'firing' correctly
There is a lot of focus on flexibility of muscles, joints and movements. This helps create a more balanced and supple body. Tight Fascia can restrict flexibility & this is also addressed with myofascial Release
Pain can be caused from weak inactive muscles. you will learn how to activate deeper intrinsic muscles in the body that help stabilise and support your body. You will also learn how to stretch opposing muscle groups for complete balance
You will learn how to apply self Myofascial Release & Trigger Point Release Techniques using Spiky Massage Balls. It can reduce muscle tension and help reactivate muscles that are not 'firing' correctly
Never tried Pilatesbody online classes? Your first class is free Contact Lisa to book | 086 177897 | lisa.pilatesbody@gmail.com

Copyright © 2020 | All Rights Reserved